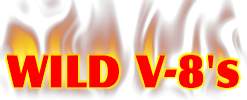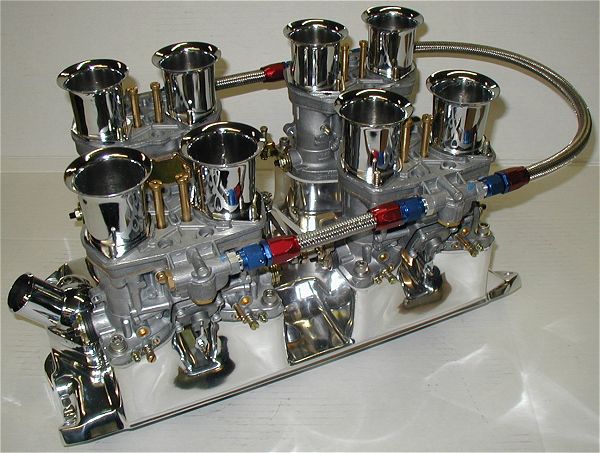 Another View
Shown with Optional Polished Manifold SS Fuel Lines and Chrome Stacks
.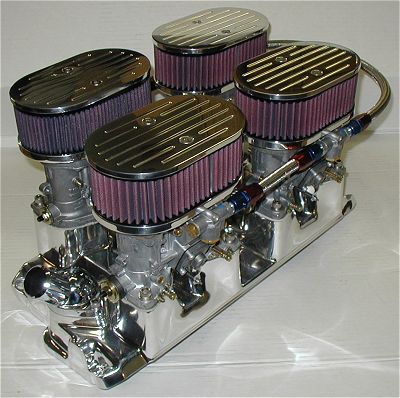 Another View
Shown with optional Polished Manifold SS Fuel Lines and Billet Filters
69 Camaro with 8 Pak Polished with stock Stacks

Custom Shorter IDA stacks and modified venturis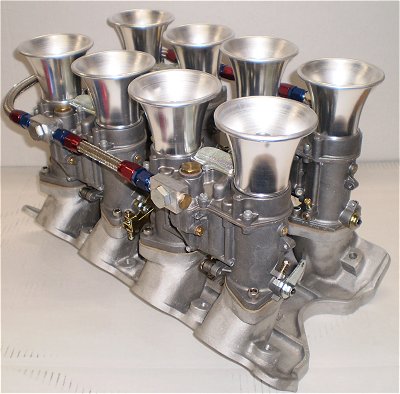 Wide mouth IDA stacks


Crossrams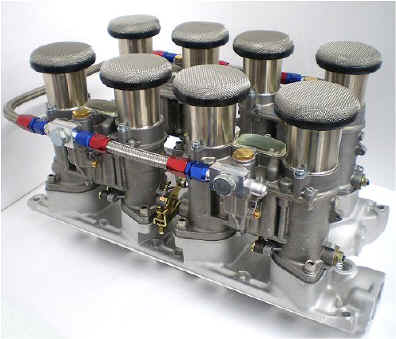 New Performance Stack Filters Option


Deluxe Wheel Linkage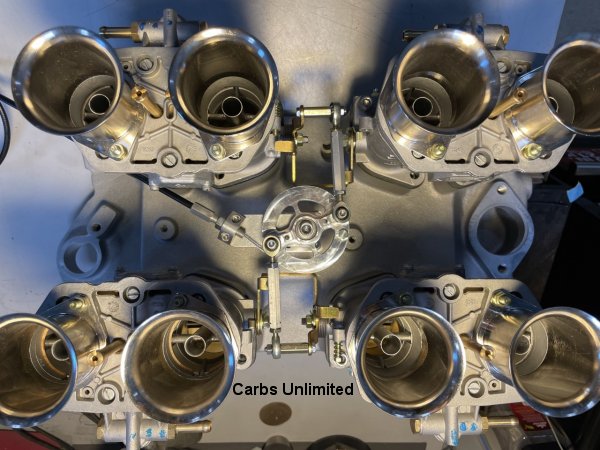 MOST KITS COME WITH
4 Weber IDF's / IDAs or DCOE Carbs modified for low to mid RPM drivability ,Comes with standard intake Stacks , base gaskets ,carb bolts . Fuel Lines included when noted (Fuel lines) Rubber Rap around fuel lines or Stainless steel braided fuel lines Available .Adjustable linkage .Intake manifold ,Weber Tuning Manual and Synchrometer included
Comes assembled or sold separately . If you are running aftermarket heads some modifications may be necessary

WE CAN CUSTOMIZE YOUR SETUP TO FIT YOUR NEEDS
Short stacks for IDAs Available
Polishing ,Powder coating ,Special Jetting , Pull down the center linkage ,Vacuum porting
Just CALL for info 1-800-994-CARB (2272)

Give us a Call we Will Try to beat any quote !!!!
Fuel Injected Versions Available CALL for info
.
---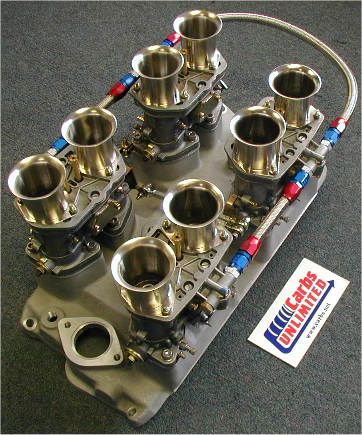 K350-IDF
Picture

Small Block Chevy
283-350

Best for
300+ HP
Includes:
4 x 44 IDF Carbs
modified for low to mid RPM drivability
Stainless Steel Fuel Lines included
Adjustable linkage
Intake Manifold
Weber Tuning Manual and Synchrometer included
Comes Assembled
K350-IDF

---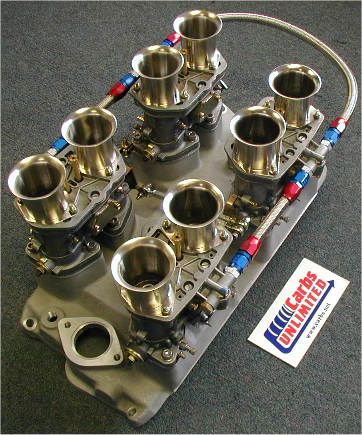 K350-IDF48
Picture

Small Block Chevy
283-350

Best for
400+ HP
Includes:
4 x 48 IDF Carbs
modified for low to mid RPM drivability
Stainless Steel Fuel Lines included
Adjustable linkage
Intake Manifold
Weber Tuning Manual and Synchrometer included
Comes Assembled
K350-IDF48

---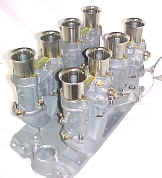 K350-IDA
Small Block Chevy

283-350

Best for
500+ HP
Includes:
4 x 48 IDA Carbs
modified for low to mid RPM drivability
Stainless Steel Fuel Lines included
Adjustable linkage
Intake Manifold
Weber Tuning Manual and Synchrometer included
Comes Assembled

Fuel Injected Versions
K350-IDA

---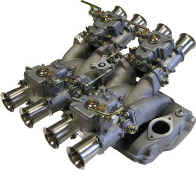 K350-DCO
Small Block Chevy
283-350
Includes:
4 x 45 DCOE Carbs
modified for low to mid RPM drivability
rubber Fuel Lines
Adjustable linkage
Intake Manifold
Weber Tuning Manual and Synchrometer included
Comes Assembled
K350-DCO

---
Big Block Chevy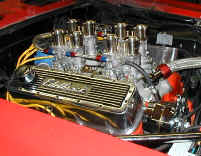 Picture
Big Block Chevy
Oval Port
K396-IDF
4 x 48 IDF Carbs
modified for low to mid RPM drivability
Stainless Steel Fuel Lines included
Adjustable linkage
Intake Manifold
Weber Tuning Manual and Synchrometer included
Comes Assembled
K396-IDF

---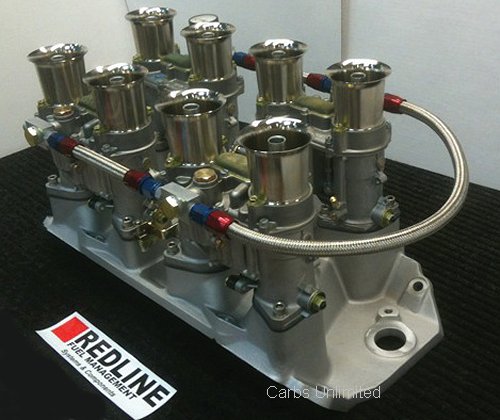 Big Block Chevy
Square Port
or Oval Port
K454-IDA-SP
K454-IDA-OP
4 x 48 IDA Carbs
modified for low to mid RPM drivability
Stainless Steel Fuel Lines included
Adjustable linkage
Intake Manifold
Weber Tuning Manual and Synchrometer included
Comes Assembled
K454-IDA-SP

---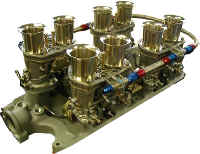 Small Block Ford
289-302 Windsor
K302-IDF44
+Picture
4 x 44 IDF Carbs
modified for low to mid RPM drivability
Includes SS Fuel lines
Adjustable linkage
Intake Manifold
Weber Tuning Manual and Synchrometer included
Comes Assembled
**
K302-IDF44

---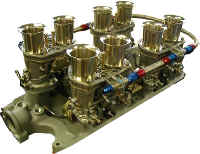 Small Block Ford
289-302 Windsor
K302-IDF48
+Picture
4 x 48 IDF Carbs
modified for low to mid RPM drivability
Includes SS Fuel lines
Adjustable linkage
Intake Manifold
Weber Tuning Manual and Synchrometer included
Comes Assembled
**
K302-IDF48

---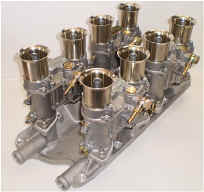 Cobra Style Duel water hoses
K289-IDA
Small Block Ford
289-302

Picture
4 x 48 IDA Weber Carbs.
modified for low to mid RPM drivability
Intake Manifold
adjustible Linkage
Fuel Lines included
Fuel Line Options
Weber Tuning Manual and Synchrometer included
Comes Assembled
**
K289-IDA

---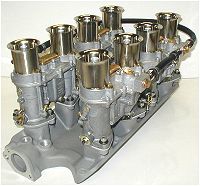 K302-IDA
Small Block Ford
302
+ Picture
4 x 48 IDA Weber Carbs
modified for low to mid RPM drivability
Intake Manifold
adjustable Linkage
Fuel Lines included
Fuel Line Options
Weber Tuning Manual and Synchrometer included
Comes Assembled
**
Fuel Injected Versions
K302-IDA

---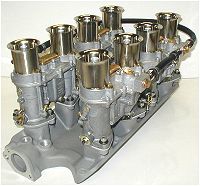 K351w-IDA
Small Block Ford
351
Windsor
4 x 48 IDA Weber Carbs
modified for low to mid RPM drivability
Intake Manifold
Adjustable Linkage
Fuel Lines included
Fuel Line Options
Weber Tuning Manual and Synchrometer included.
Comes Assembled
(Picture not of actual manifold)
**
Fuel Injected Versions
K351w-IDA

---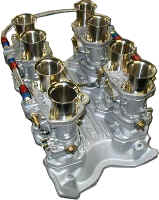 K351c-IDF
Small Block Ford
302-351 Cleveland
4 x 48 IDF Carbs
modified for low to mid RPM drivability
Fuel Lines included
Fuel Line Options,
(Shown With SS Fuel Lines)
Adjustable linkage
Intake Manifold
Weber Tuning Manual and Synchrometer included.
Comes Assembled
**
---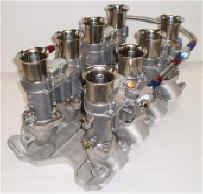 K351c-IDA
Small Block Ford
302-351 Cleveland
+ Picture
4 x 48 IDA Weber Carbs
modified for low to mid RPM drivability
Intake Manifold
Adjustable Linkage
Fuel Lines included
Fuel Line Options
Weber Tuning Manual and Synchrometer included
Comes Assembled
**
K351c-IDA




Specify:
Aluminum heads
or Steel 4v
---
Big Block Ford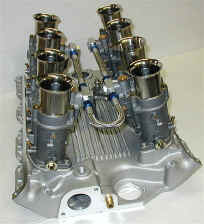 K427-IDA
Big Block Ford FE
360,390,
427,428
4 x 48 IDA Weber Carbs
modified for low to mid RPM drivability
Intake Manifold
Adjustable Linkage
NO Fuel Lines included
Fuel Line Options
Weber Tuning Manual and Synchrometer included
Comes Assembled
**
Fuel Injected Versions
K427-IDA

---
K460-IDA
Big Block Ford
429, 460, C.J./Wedge
4 x 48 IDA Weber Carbs
modified for low to mid RPM drivability
Intake Manifold and Linkage
NO Fuel Lines included
Fuel Line Options
Weber Tuning Manual and Synchrometer included
Comes Assembled
**
Fuel Injected Versions
K460-IDA

Other Setups Available CALL for Info
MOPAR 440
Pontiac 400
Hemi 51-58 331 - 354 - 392 with 48 IDAs
Hemi 6.1 48 IDAs
Buick Nailhead 53-66 with 48 IDAs
Have intake Polished
Picture at top of page
(Not Avaiable At this Time)
Add
$ Call
---
Deluxe Linkage Wheel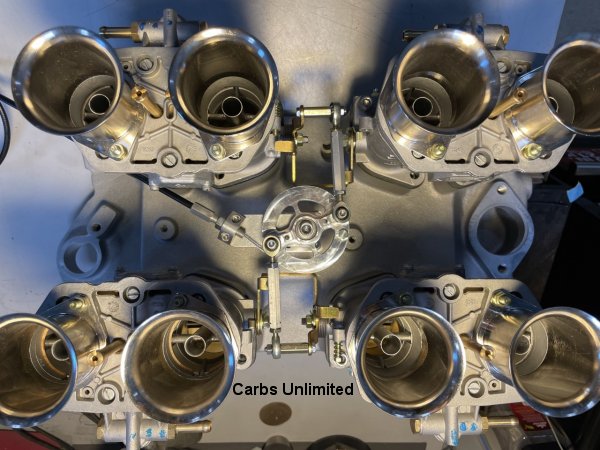 Option Add
Deluxe Linkage


---
Polished Linkage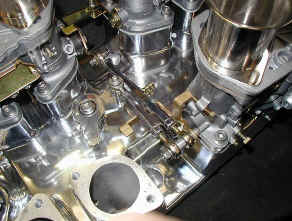 Add
$ 100.00

---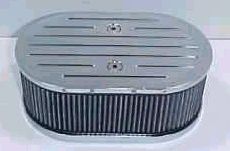 IDF ONLY


CUBIDF250
---
UPGRADE ONLY
8 Short Stacks on IDA

1 1/4 inch tall

(Stacks and
modify venturis ONLY)
52840.512
69009.450s
---
Vacuum Porting

Bottom Chamber type
Depends on manifold type
( This is custom work takes 2 to 4 weeks most cases )
Picture of top mount Custom
billed by the hour CALL
Bottom mount Custom
billed by the hour CALL
Add
$ Call
Chamber type only
---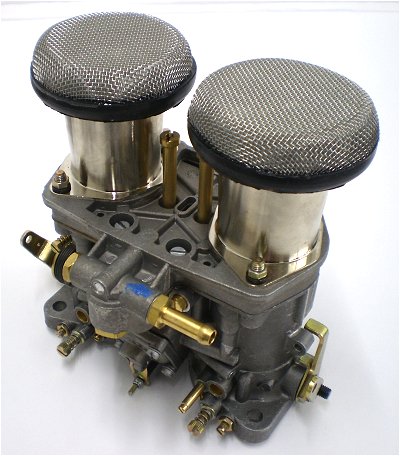 Stack Filters
8 - Chrome 2 1/2 " Stacks
(Shown top of Page)
IDF
Stacks Page
---
8 - Aluminum wide mouth Stacks
(Shown top of Page)
IDA
Stacks Page
---
8 - 5" wide mouth Stacks
IDF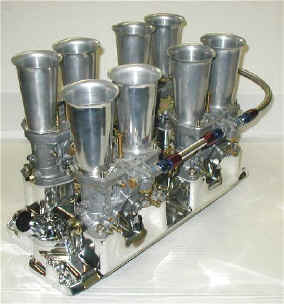 Add

52845.550
---


IDA Stainless Steel Fuel Lines
(optional upgrade with above 8 Paks only)
Check
99009.902
---


IDF Stainless Steel Fuel Lines
(optional upgrade with above 8 Paks only)
Check
---
IDA Rap around rubber Fuel Lines
(optional upgrade with above 8 Paks only)
$ Call
---
IDF Rap around rubber Fuel Lines
(optional upgrade with above 8 Paks only)
$ Call
---
---


** Note 1 - If you are running aftermarket heads some modifications may be necessary