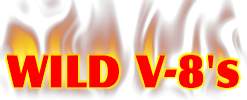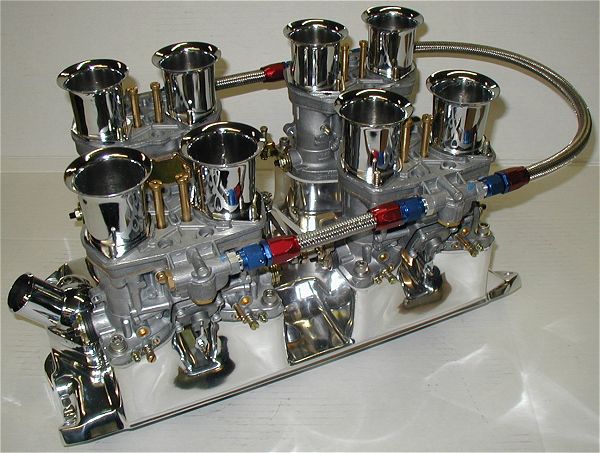 Another View
Shown with Optional Polished Manifold SS Fuel Lines and Chrome Stacks
.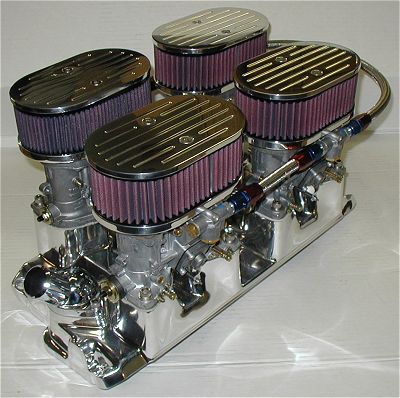 Another View
Shown with optional Polished Manifold SS Fuel Lines and Billet Filters
69 Camaro with 8 Pak Polished with stock Stacks

Custom Shorter IDA stacks and modified venturis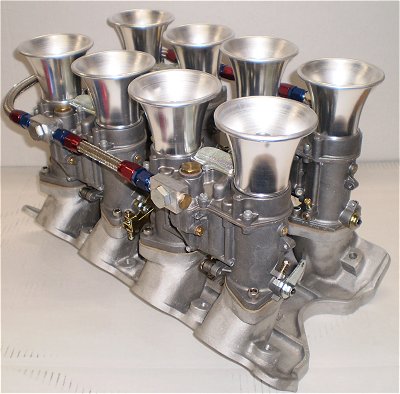 Wide mouth IDA stacks


Crossrams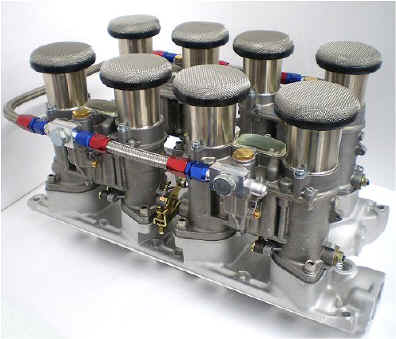 New Performance Stack Filters Option


Deluxe Wheel Linkage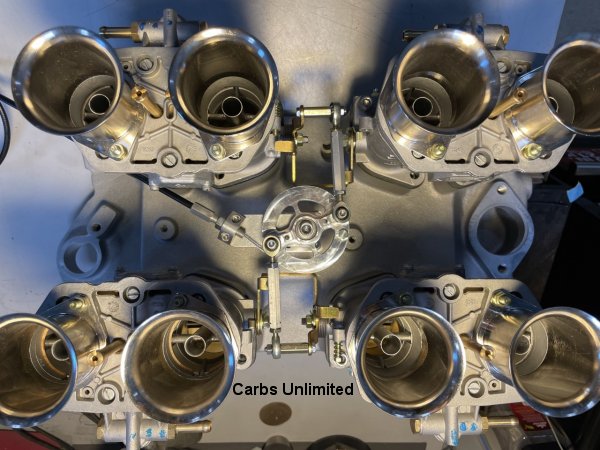 Parts Only
4 Weber IDF's / IDAs or DCOE Carbs modified for low to mid RPM drivability , . Fuel Lines Extra .Adjustable linkage Extra .Intake manifolds Not availible ,Recomend a Tuning Manual and Synchrometer for adjustment

WE CAN NOT CUSTOMIZE YOUR SETUP
Short stacks for IDAs Available
Online ordering 24 X 7
.
---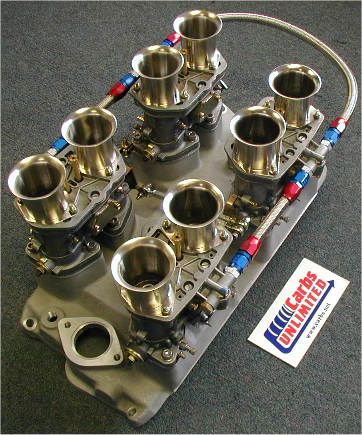 K350-IDF
Picture

Small Block Chevy
283-350

Best for
300+ HP
Recomended Parts
4 x 44 IDF Carbs
for low to mid RPM drivability
Stainless Steel Fuel Lines
Adjustable linkage
Weber Tuning Manual and Synchrometer Xtra

K350-IDF

---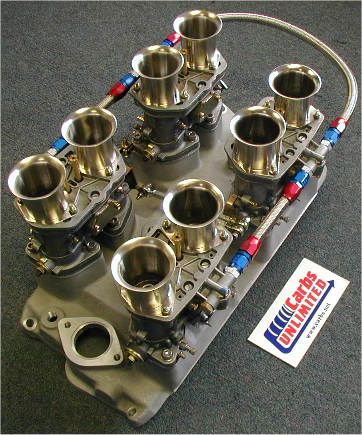 K350-IDF48
Picture

Small Block Chevy
283-350

Best for
400+ HP
Recomended Parts
4 x 48 IDF Carbs
for low to mid RPM drivability
Stainless Steel Fuel Lines
Adjustable linkage
Weber Tuning Manual and Synchrometer Xtra
K350-IDF48

---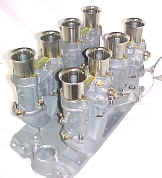 K350-IDA
Small Block Chevy

283-350

Best for
500+ HP
Recomended Parts
4 x 48 IDA Carbs
modified for low to mid RPM drivability
Stainless Steel Fuel Lines
Adjustable linkage
Weber Tuning Manual and Synchrometer



K350-IDA

---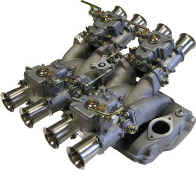 K350-DCO
Small Block Chevy
283-350
Recomended Parts
4 x 45 DCOE Carbs
for low to mid RPM drivability
rubber Fuel Lines
Adjustable linkage
Weber Tuning Manual and Synchrometer

K350-DCO

---
Big Block Chevy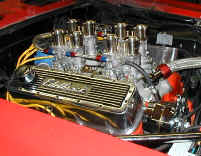 Picture
Big Block Chevy
Oval Port
K396-IDF
Recomended Parts
4 x 48 IDF Carbs
for low to mid RPM drivability
Stainless Steel Fuel Lines
Adjustable linkage
Weber Tuning Manual and Synchrometer Xtra
K396-IDF

---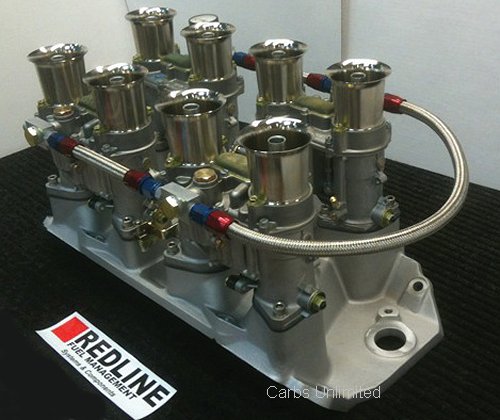 Big Block Chevy
Square Port
or Oval Port
K454-IDA-SP
K454-IDA-OP
Recomended Parts
4 x 48 IDA Carbs
modified for low to mid RPM drivability
Stainless Steel Fuel Lines
Adjustable linkage
Weber Tuning Manual and Synchrometer

K454-IDA-SP

---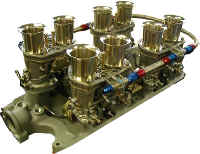 Small Block Ford
289-302 Windsor
K302-IDF44
+Picture
Recomended Parts
4 x 44 IDF Carbs
for low to mid RPM drivability
Stainless Steel Fuel Lines
Adjustable linkage
Weber Tuning Manual and Synchrometer Xtra
K302-IDF44

---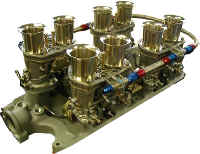 Small Block Ford
289-302 Windsor
K302-IDF48
+Picture
Recomended Parts
4 x 48 IDF Carbs
for low to mid RPM drivability
Stainless Steel Fuel Lines
Adjustable linkage
Weber Tuning Manual and Synchrometer Xtra
K302-IDF48

---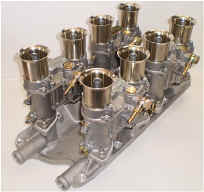 Cobra Style Duel water hoses
K289-IDA
Small Block Ford
289-302

Picture
Recomended Parts
4 x 48 IDA Carbs
modified for low to mid RPM drivability
Stainless Steel Fuel Lines
Adjustable linkage
Weber Tuning Manual and Synchrometer
K289-IDA

---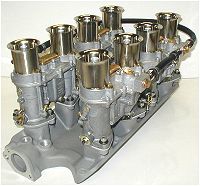 K302-IDA
Small Block Ford
302
+ Picture
Recomended Parts
4 x 48 IDA Carbs
modified for low to mid RPM drivability
Stainless Steel Fuel Lines
Adjustable linkage
Weber Tuning Manual and Synchrometer
K302-IDA

---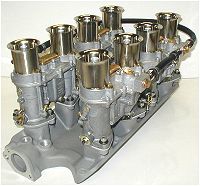 K351w-IDA
Small Block Ford
351
Windsor
Recomended Parts
4 x 48 IDA Carbs
modified for low to mid RPM drivability
Stainless Steel Fuel Lines
Adjustable linkage
Weber Tuning Manual and Synchrometer
K351w-IDA

---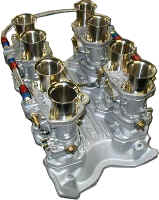 K351c-IDF
Small Block Ford
302-351 Cleveland
Recomended Parts
4 x 48 IDF Carbs
for low to mid RPM drivability
Stainless Steel Fuel Lines
Adjustable linkage
Weber Tuning Manual and Synchrometer Xtra
---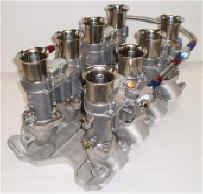 K351c-IDA
Small Block Ford
302-351 Cleveland
+ Picture
Recomended Parts
4 x 48 IDA Carbs
modified for low to mid RPM drivability
Stainless Steel Fuel Lines
Adjustable linkage
Weber Tuning Manual and Synchrometer
K351c-IDA




Specify:
Aluminum heads
or Steel 4v
---
Big Block Ford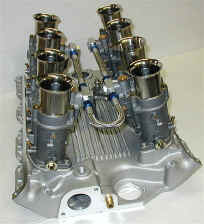 K427-IDA
Big Block Ford FE
360,390,
427,428
Recomended Parts
4 x 48 IDA Carbs
modified for low to mid RPM drivability
Stainless Steel Fuel Lines
Adjustable linkage
Weber Tuning Manual and Synchrometer
K427-IDA

---
K460-IDA
Big Block Ford
429, 460, C.J./Wedge
Recomended Parts
4 x 48 IDA Carbs
modified for low to mid RPM drivability
Stainless Steel Fuel Lines
Adjustable linkage
Weber Tuning Manual and Synchrometer
K460-IDA

Have intake Polished
Picture at top of page
(Not Avaiable At this Time)
Not Availible
---
Deluxe Linkage Wheel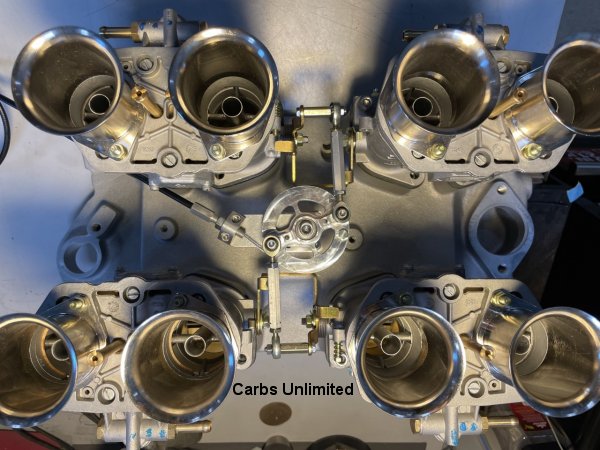 Option Add
Deluxe Linkage


---
---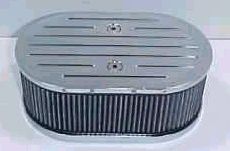 IDF ONLY


CUBIDF250
---
UPGRADE ONLY
8 Short Stacks on IDA

1 1/4 inch tall

(Stacks and
modify venturis ONLY LIMITED)
52840.512
69009.450s
---
---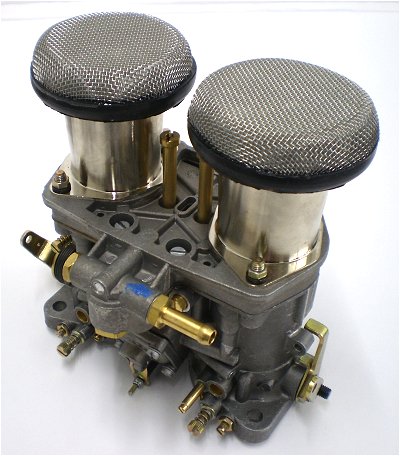 Stack Filters
8 - Chrome 2 1/2 " Stacks
(Shown top of Page)
IDF
Stacks Page
---
8 - Aluminum wide mouth Stacks
(Shown top of Page)
IDA
Stacks Page
---
8 - 5" wide mouth Stacks
IDF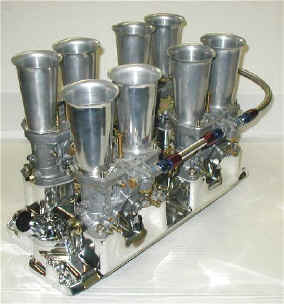 Add

52845.550
---

IDF Stainless Steel Fuel Lines
(optional upgrade with above 8 Paks only)
IDF Fuel Kit
---

IDA Stainless Steel Fuel Lines
(optional upgrade with above 8 Paks only)
IDA Fuel kit
---
IDA Rap around rubber Fuel Lines
(optional upgrade with above 8 Paks only)
$ Call
---
---

IDF Linkage Kit

IDA Linkage Kit
---
---


** Note 1 - If you are running aftermarket heads some modifications may be necessary